Cartel Sketchbook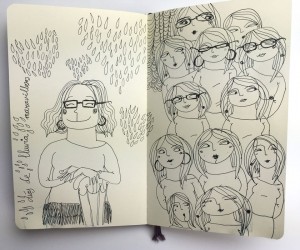 In the previous post we talk about the sketchbooks and we show you some of our favorites that we keep here. And we anticipate that the next thing would be to publish the sketchbooks that we have in Cartel. And as promised is a debt, here we leave you with the Poster Sketchbook.
Well, we have made a selection of some of the pages of the notebooks of our Conchi Hinojosa where watercolor, pencil, pastels, pen, marker, paper and scissors makes all kinds of sketches, fonts and collages that then are very useful to us . Some of those sketches are used in jobs, others make us happy,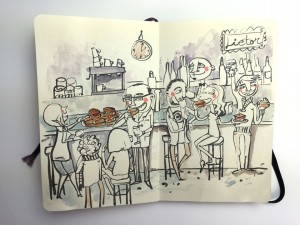 From these notebooks came the characters from the exhibition "The Circus of Water", the illustrated Maria Rozalén prepared for a concert poster, an animal swans, cats, octopi, jellyfish and turtles, test type, portraits of many people nearby , …
And the inspiration comes, but gentlemen, let's not deceive ourselves that we have to work it. And of that, in Cartel we know a lot. The sketches help us to find the style line that a project requires. And in Cartel, when we finish and deliver a project, we preserve the entire creative process, which is where the personality of the work performed really is.
Do not tell us that it is not wonderful to commission a project and see how the design takes shape and meaning from the start?