Gastronomy, design & illustration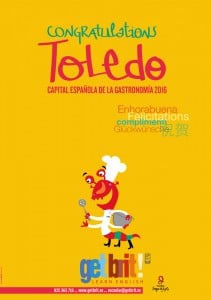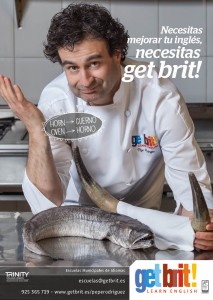 As a result of the designation of Toledo as the Spanish Capital of Gastronomy 2016, our clients and friends of get brit!, company based in this city, we commissioned a design to celebrate and publish it in the press. A fresh image, with the original type of poster and the get brit mascot! disguised as a cook.
The case, is that as a result of this design, it has given us to think about the amount of work we have done for companies and institutions where gastronomy and all the universe that surrounds it have been the main protagonists.
And is that we who love good food, how can we not enjoy making designs related to it?
The campaign we did also to get brit! with the great Pepe Rodríguez and a good pincha hake 😉 you already know her. We had a great time thinking about the campaign and and directing the photo session.
In the gallery, you can see several of the packagins designed for some of the delicious organic cheeses of Cantero de Letur as well as several illustrations of the cooperation project Medieterránea that we have developed for CDR Campos de Hellín, GDR Sierra del Segura, GDR La Manchuela, GDR Mancha Júcar-Center, CDR Sierra de Alcaraz and Campo de Montiel and GDR Monte Ibérico-Corredor de Almansa; and in which we have done the branding, the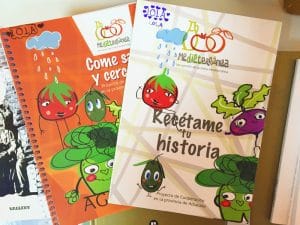 corporate image, web, school agendas, recipe books, …
Also a few years ago we made the image of a gastronomic conference in the Sierra del Segura, with a style of drawing that reminds and honors the great painter Albacete José Antonio Lozano.
And with the Local Action Group of the Sierra del Segura we conducted a balanced feeding campaign

And to you, which of these jobs do you like the most? We would love for you to tell us!