The water circus: watercolor illustrations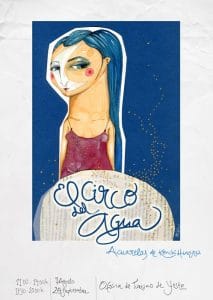 In Cartel we are dedicated to design, advertising and illustration,
although from time to time, we come up with some idea that ends up being a complete exhibition.
Well this same thing happened to us this summer and in the Yeste tourism office se puede visitar "The water circus".
For those who do not know, Yeste is a town in the Sierra del Segura in Albacete. A very special town because it has landscapes, heritage and gastronomy that really impress. We love to make trips there because we come back with the recharged batteries
But let's go back to the exhibition. The Water Circus is made entirely by Conchi Hinojosa (half of the head of Cartel). It is about nineteen watercolors with different sizes in which he has represented imaginary figures inspired by the golden age of the circus (decades 20 and 30), where each character had a special role and charisma that Conchi wanted to rescue and capture with his style personal.
The exhibition can be visited from August 7 to September 15, 2015 at the Yeste tourism office. But for those who catch you away do not worry, we show you the photos of the framed works that are available so that, if you fall in love with one of these beautiful characters, you can treat yourself and ask us to: hola@cartel-arte.com
We show you the photos of all available works:
1. Paper boatman: Price: 260 €
2. The Boss: Sold
3. Sanchohoop: Price: 220 €
4. Gondolierini: Price: 140 €
5. Boatman: Price: 150 €
6. Mustache Wizard: Price: 230 €
7. Bird Maker: Price: 220 €
8. Mari Pousa: Price: 80 €
9. Equiliazul: Sold
10. Giovanni Magician: Sold
11. Circus: Price: 130 €
12. Sancho Strong: Price: 160 €
13. Tamer: Price: 225 €
14. Dulcinea: Price: 130 €
15. Crazy Quixote: Price: 170 €
16. Moon: Price: 260 €
17. Miller Price: 180 €
18. Liar: Price: 250 €
19. The Moños: Price: 230 €
And to you, which character do you like the most? We would love for you to tell us!